How Recurring Payments Simplify Premium Management for Insurers
In a highly competitive market, insurance providers need to strive to offer flexible, convenient and recurring payment options for their customers. However, some insurance companies and brokers still struggle to incorporate recurring payments into their offering. Several problems can arise when insurance providers do not offer payment flexibility. This can lead to, for example, late or missed payments from policyholders, resulting in penalties or coverage suspension. Ultimately, this can result in a loss of customers for the insurance providers, as many consumers prefer recurring payment options for their convenience.
Yet, recurring payments simplify insurance companies' financial management. By using automated payment methods, insurance companies can count on regular monthly income, and reduce the risk of late payments and billing errors, which helps them better plan cash flow and maintain stable financial solvency.
Collect your recurring payments effortlessly with SlimPay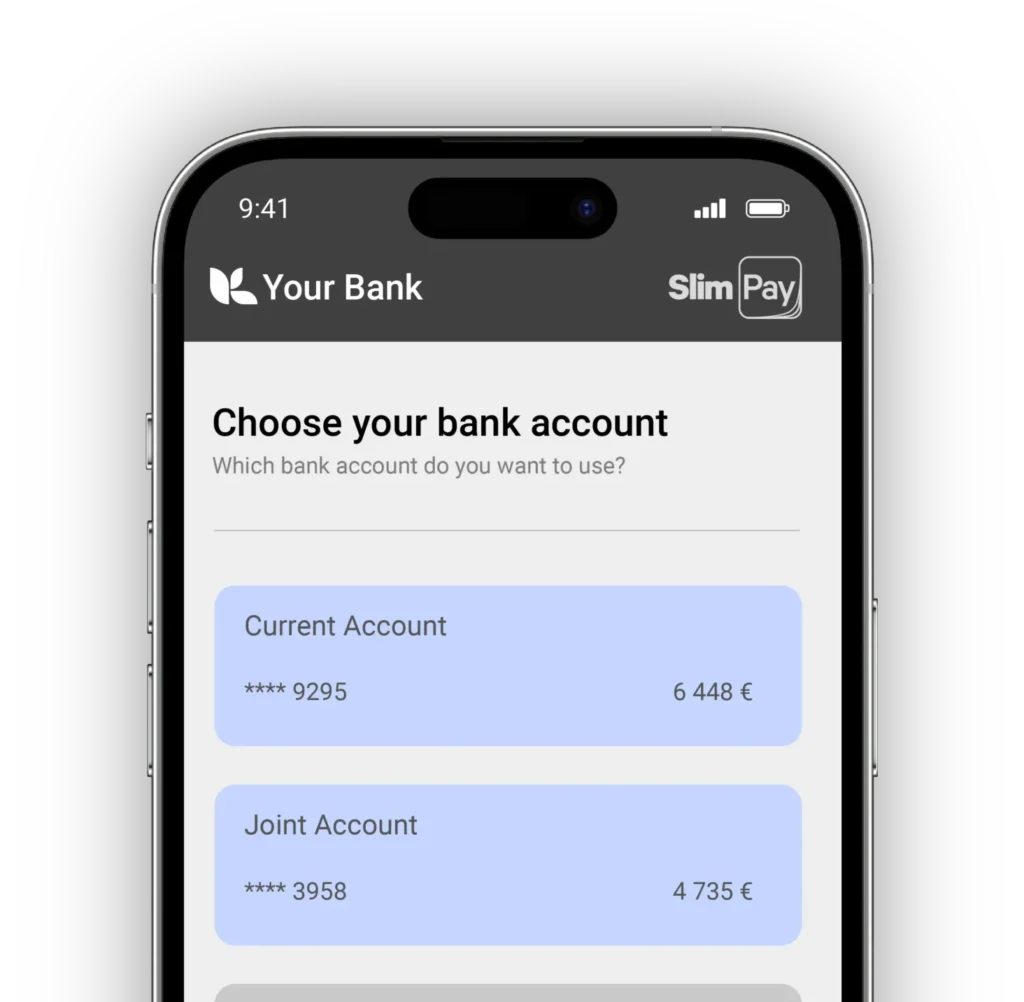 What is a recurring payment?
A recurring payment is a type of automated payment where a set amount of money is automatically withdrawn from a bank account or credit card at regular intervals, typically monthly or annually. They are usually initiated by a contract and primarily used to pay for subscriptions, insurance premiums, streaming services, make regular donations to charities, etc.
There are different types of recurring payments available, here are two examples:
Automatic Debits: These are recurring payments made from a bank account or a bank/credit card. Companies can use this method to automate billing processes and avoid any delays or missed payments. It requires authorisation from the consumer (SEPA Direct Debit mandate), which allows the company to debit money from the payer's bank account.
It is important to note that for card-based debits, there is always a risk of churn, as all cards have expiry dates and will one day become outdated. In addition, if a customer's card is lost or stolen, there is also a significant risk of churn when they are issued new card numbers and do not update them with merchants.
Automatic Bank Transfer Payments: This is a type of recurring payment where payments are automatically made via bank transfer. It is also known as a permanent transfer. Unlike a direct debit, the transfer is initiated by the payer. Automatic bank transfer payments are generally more reliable and secure than checks or credit card payments, as they are less dependent on human error and require secure banking information to be completed.
Modernising Insurance Payments with Recurring Options
Recurring payments are becoming increasingly popular these days, and it's easy to see why. Whether they're monthly or paid quarterly, setting up recurring payments allows policyholders to pay their insurance premiums regularly, rather than having to make a single, large payment.
By using recurring payments, insurers can reduce payment delays by 20%. Billing errors are also reduced by 15% through automated payment methods. It's worth noting that the automation of bills also plays an important role in pushing for recurring payments?
Recurring payments also allow for better cash flow planning, with insurance companies using recurring payments having a default payment rate of only 2% compared to 10% for those who don't.
Recurring payments also offer great flexibility to customers. Many customers prefer recurring payment options over one-time payment options. Clients can manage their recurring payments online, giving them better control of their finances.
Customers who opt for recurring payments are more likely to keep their insurance for a longer period, therefore reducing costs for acquiring new customers. Acquisition costs can be high, as they include expenses such as advertising, commissions for insurance agents, and marketing. Additionally, direct debits, which are highly recommended for recurring payments, can also reduce accidental churn, as the IBAN does not change, unlike a credit card which can expire or be lost.
Finally, adopting recurring payment methods protects customer data and complies with privacy regulations. Recurring payments such as automatic debits and automatic bank transfers offer a high level of security using encryption protocols to protect sensitive customer information.
On the other hand, checks or non-secured card payments pose security problems. Checks contain sensitive information such as the customer's name and address, as well as the bank account number, and can be easily forged or stolen. Bank and credit card payments may not be secure if companies do not use the appropriate security protocols, such as SSL encryption, to protect sensitive customer information.
Revolutionise Insurance Payments with SlimCollect: An Open Banking-Powered Solution
As a recurring payment specialist, our solution offers direct debit and open banking payments through the SlimCollect solution.
SlimCollect is an account-to-account payment solution, powered by open banking, offering additional benefits:
Increased security: SlimPay solutions use advanced security protocols to protect policyholder payment data.
User-friendly: The payment journey is simple and optimised for user experience, potentially increasing adoption of recurring payments.
Process automation: Administrative costs are reduced through automation, resulting in time-saving as well.
Using the SlimCollect Recurring offer, an insurer can benefit from the innovation of an Open Banking payment (secure, fast, irrevocable, etc.) for the first payment, followed by a series of direct debit payments.
We combine two payment methods within the same subscription process. This allows insurers to have a guaranteed first payment and to collect the verified consumer's IBAN. Through open banking, the customer's bank details are communicated directly from their bank to the payment provider, in order to create a SEPA Direct Debit mandate. This automation contributes not only to a better conversion rate but also to a better customer experience.
Direct debit payments are beneficial not only because they are less expensive than other payment methods, but also because they do not have any expiration date, which is a huge advantage for merchants, compared to cards.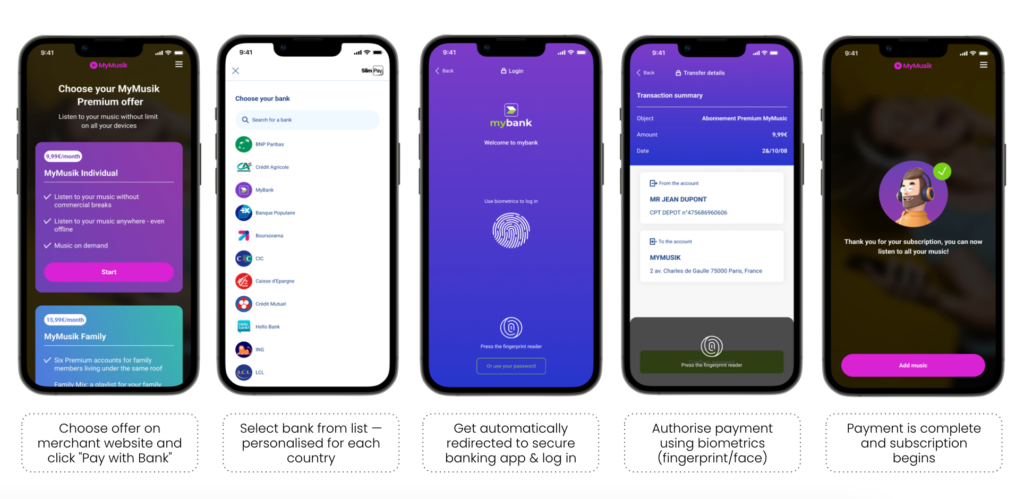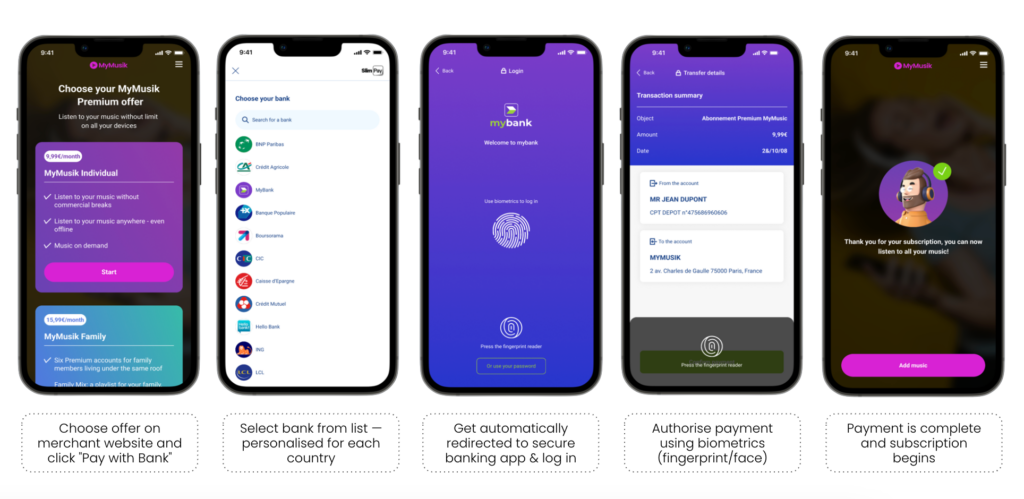 Stay Ahead of the Game: Latest Trends in Recurring Payment Usage
Mobile app payments
Insurance companies are increasingly using mobile apps to offer recurring payment options to customers. Mobile apps allow customers to securely pay their insurance premiums, access their personal information, and receive automatic payment reminders.
Voice payments
It is now common to use voice payments to allow customers to pay their insurance premiums through a voice assistant, such as Amazon Alexa or Google Home.
Chatbot payments
Chatbots allow customers to pay their insurance premiums using an instant messaging service, such as WhatsApp or Facebook Messenger.
AI and data analysis
AI enables insurance companies to personalise payment options for each customer based on their needs and risk profile. Data analysis enables insurance companies to optimise billing processes and predict revenue more effectively.
To adopt these trends, investment in digital technologies and modern payment tools is necessary, as well as training on the latest trends, and collaborating with technology partners to implement effective solutions.
In conclusion, recurring payments are an excellent solution for insurers looking to improve customer loyalty, predict revenue more steadily, and reduce administrative costs. As a payment solution, we offer secure and user-friendly recurring payments.
We invite you to explore the possibilities offered by the SlimPay payment solutions to improve your recurring payment processes.