What's in your phone? II
Published: 20 August 2018

How Mobile Applications have changed our everyday life
Following our first edition of 'What's in your phone?', here is the second edition of our journey through the Mobile Applications that are impacting our daily life. Three new podcasts  gathering the experiences with mobile apps have been collected, covering e-Learning, Healthcare and News Apps. 
Nowadays, mobile phones are an integral part of so many people's life thanks to all these apps, as they help people organise their lives and remain up to date with latest news around the World.
The graph below shows the statistics of number of mobile apps downloaded between 2016 and 2017, and gives a preview of what is expected by 2021. We could see an increase of  almost 50 billion app downloads jump between 2016 and 2017. By 2021 the total app downloads number is forecasted to  jump to a stunning 352 billion (Source: Statista).
Number of mobile app downloads worldwide, 2016, 2017 and 2021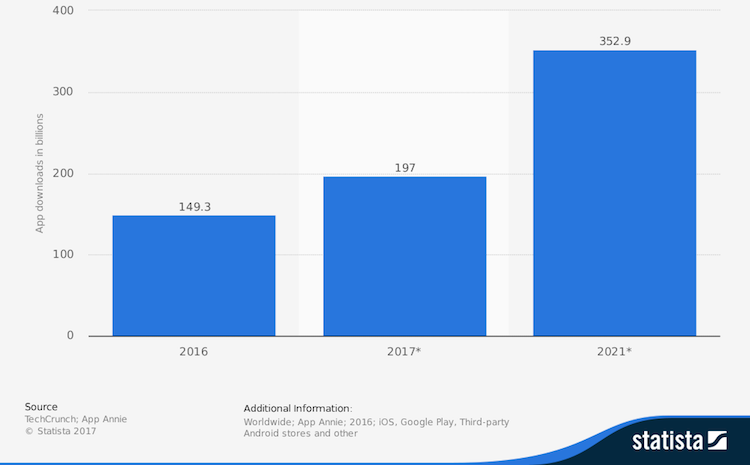 e-Learning Apps
In terms of e-Learning , there is a bust in creation of educational apps!  Never stop learning, all the knowledge available in a click thanks to your smartphone. Here is  the example of Julie, who is learning how to save someone's life thanks to an e-learning app!
Healthcare Apps
In terms of Healthcare, Jérôme, having two little babies, explains the importance for him to have access to healthcare systems directly on his phone!
News Apps
In terms of News, Benoît-Joseph talks about its favourite app that helps him staying on top of breaking news especially considering the times of political and civil uncertainty. Also, to accompany him during his daily commute time.