Make smart business decisions
Track and monitor your activity from one place and get a real-time view on your transactions and subscriptions data.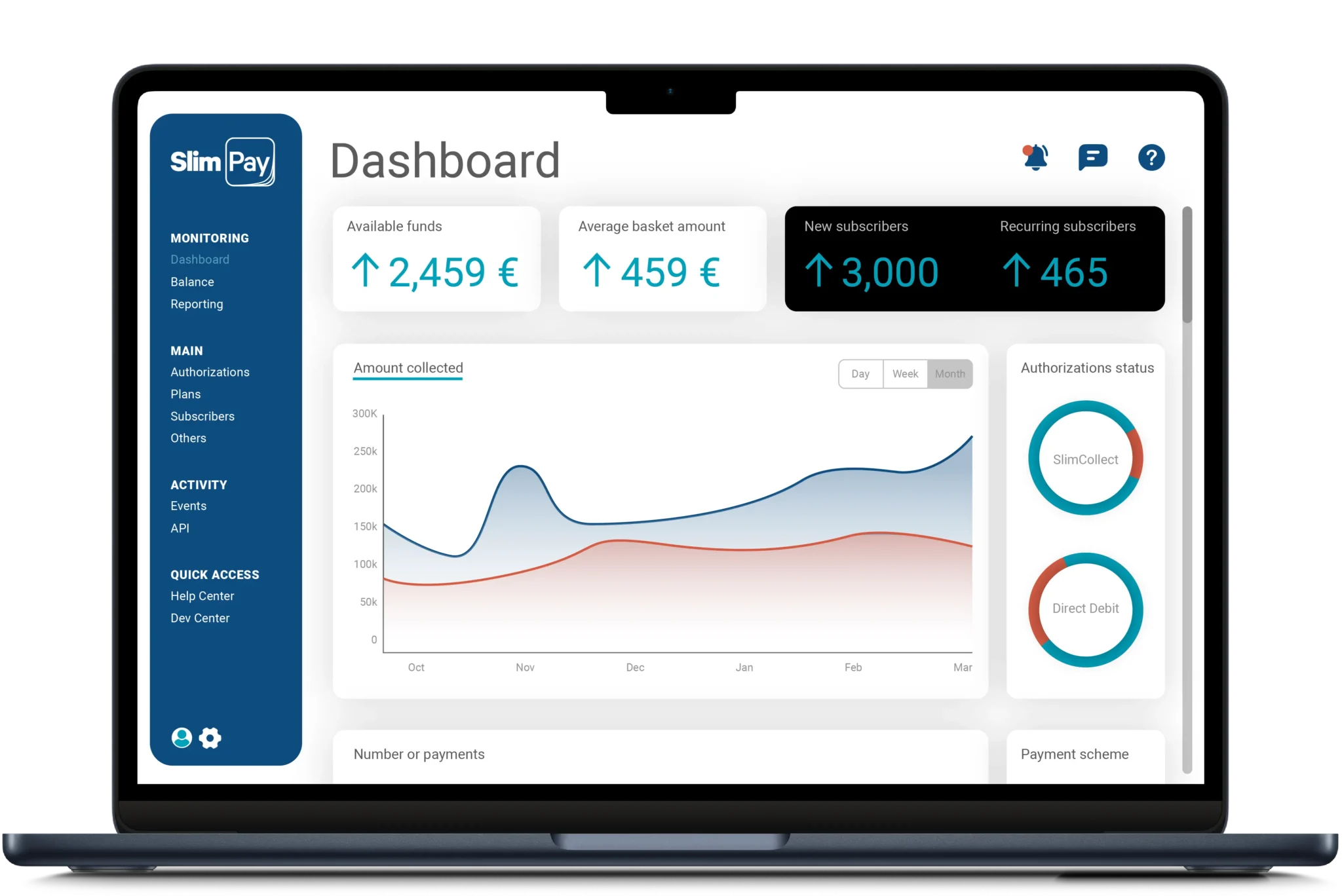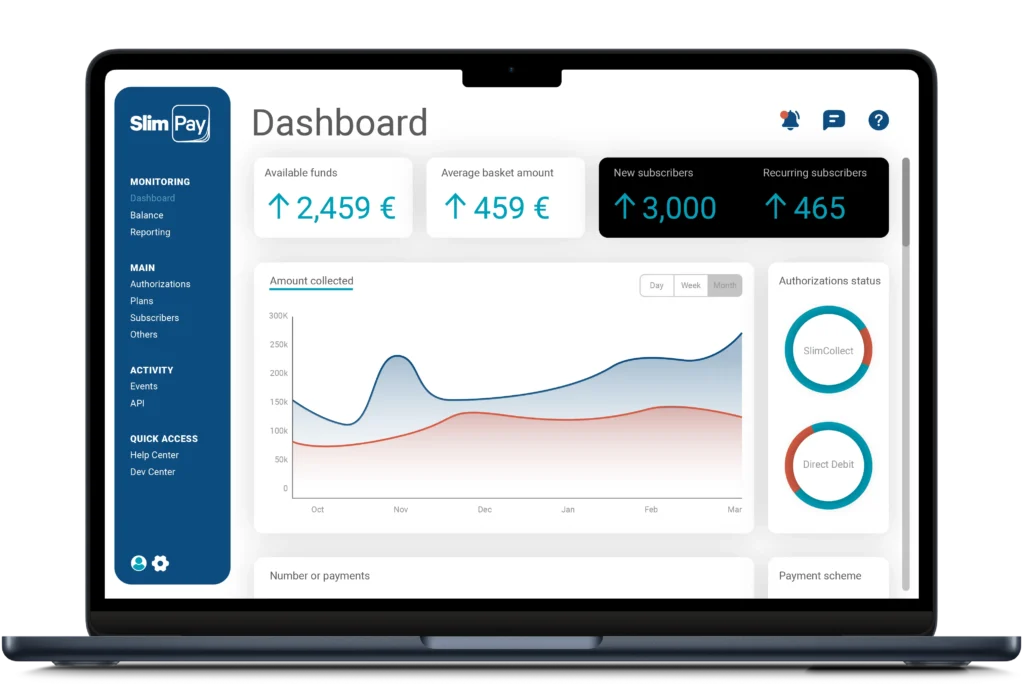 Get a consolidated view from one single site
Get a real time view on your signed mandates and documents
Track all your transactions, request payments and issue refunds
See all subscriber activity and use filters to find information
Master and automate your daily operations
Initiate and manage payment plans
E-sign and archive mandates
Track payment incidents and retry failed transactions
Manage fund transfers and reimbursements
Generate and export reports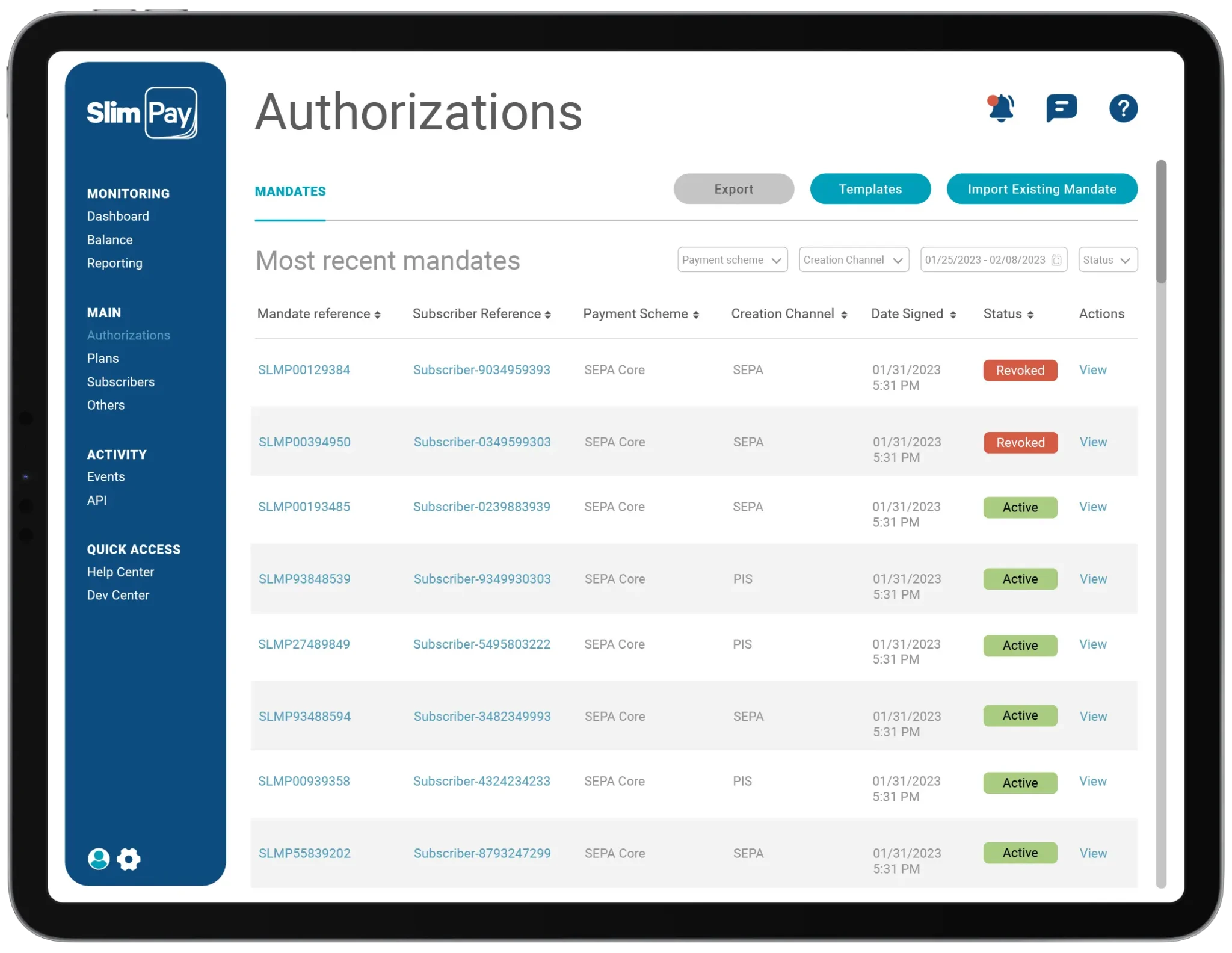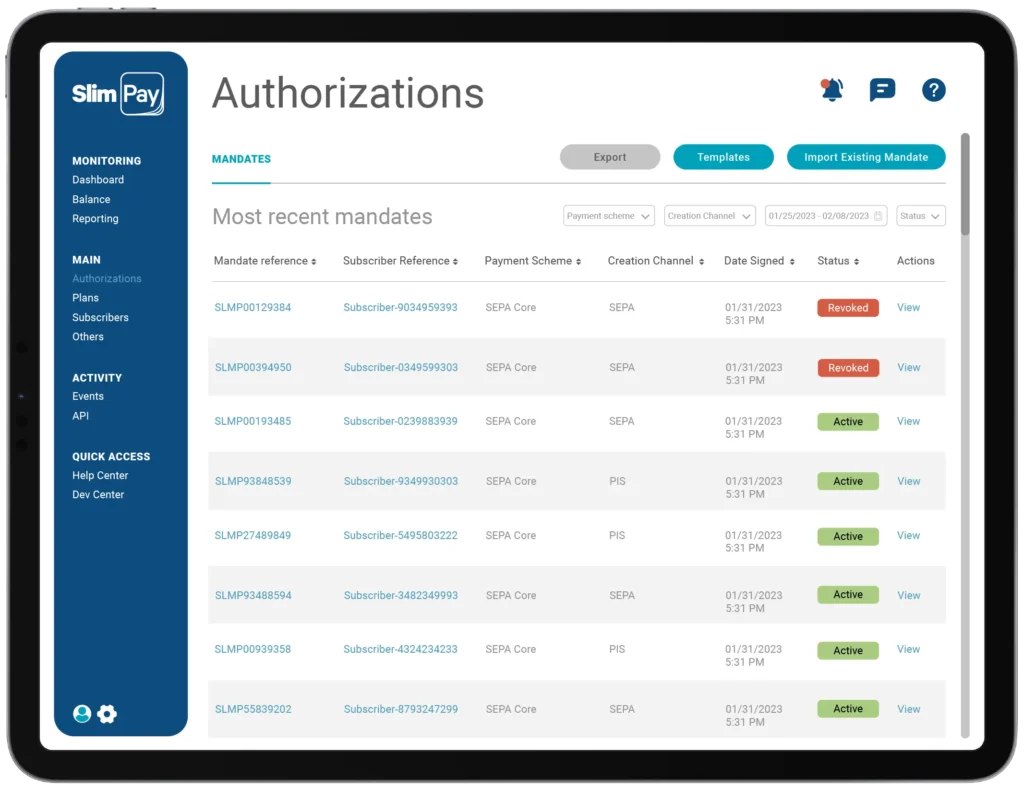 Get familiar with the Dashboard
What does it look like?
Check out our YouTube channel and discover all its functionalities.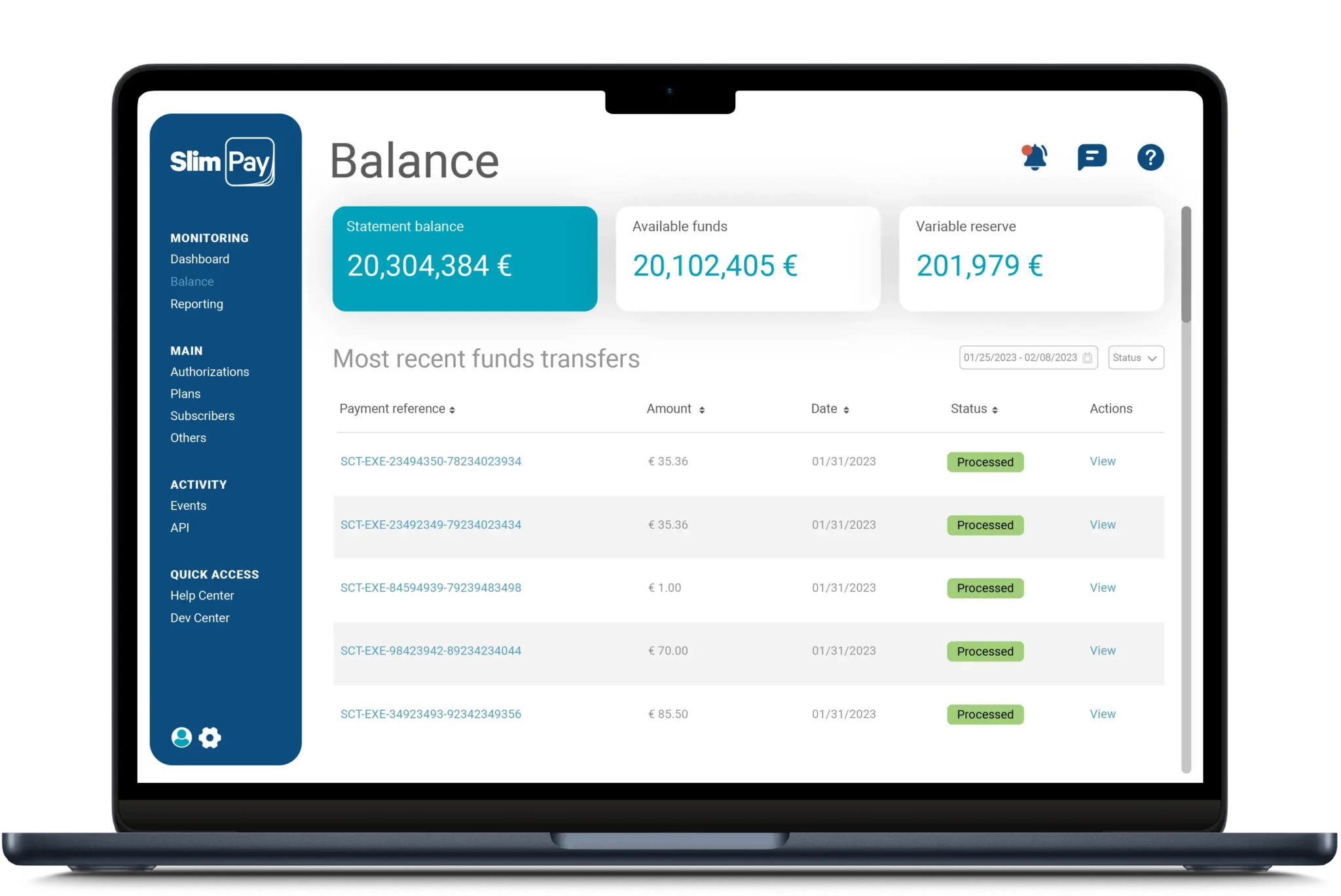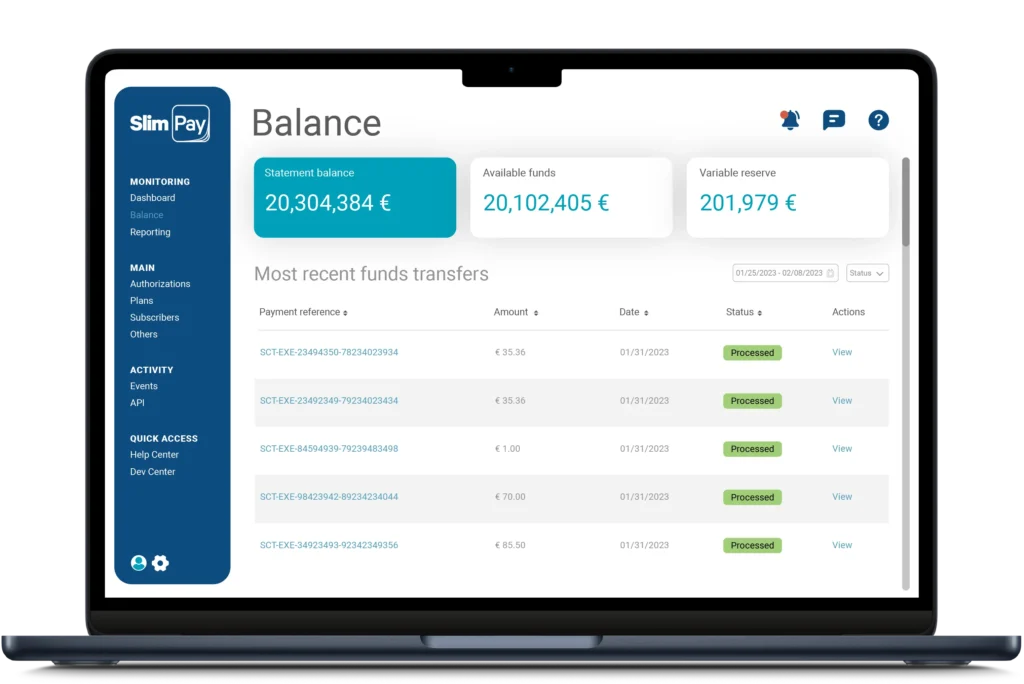 What is the purpose of the pay table – the SlimPay Dashboard?
The pay time Dashboard offers a user interface that lets you manage and configure your SlimPay merchant account. You can use it to manage payments and refunds (cards and collections), manage recurring payments, obtain transaction reports, etc.
Several members of a team can access the same Dashboard, with rights depending on their profile (Supervisor, Operator, Read-only, etc.). There are several ways to connect to the Dashboard: via an interface (web app), API or flat file.
Track all your customer payments from a single site. A complete solution for automating customer collections seamlessly and efficiently.
The Dashboard lets you track payments and automatic collections for your company. The Dashboard is a complete solution for automating customer collections seamlessly and efficiently. You can define a payment timetable and track customer payments throughout their life cycle.
With a dedicated account manager, you can easily learn how to make a payment plan, manage SEPA collections and card, recover funds and much more.
The Dashboard not only shows payments – it includes any document relating to your customers. In the Documents section you can store your mandates, contracts and other documents important to your company. SlimPay provides you with document templates but you can also create, import and download personalised templates according to your own usage.
Easy and automated reporting
As a merchant you cannot do without a reporting tool. The SlimPay Dashboard enables you to create personalised reports in CSV format in a few clicks. You can carry out SEPA management of all your debits, as well as card management of your account over a set period. To automate your work, a file can also be generated automatically depending on your preferences.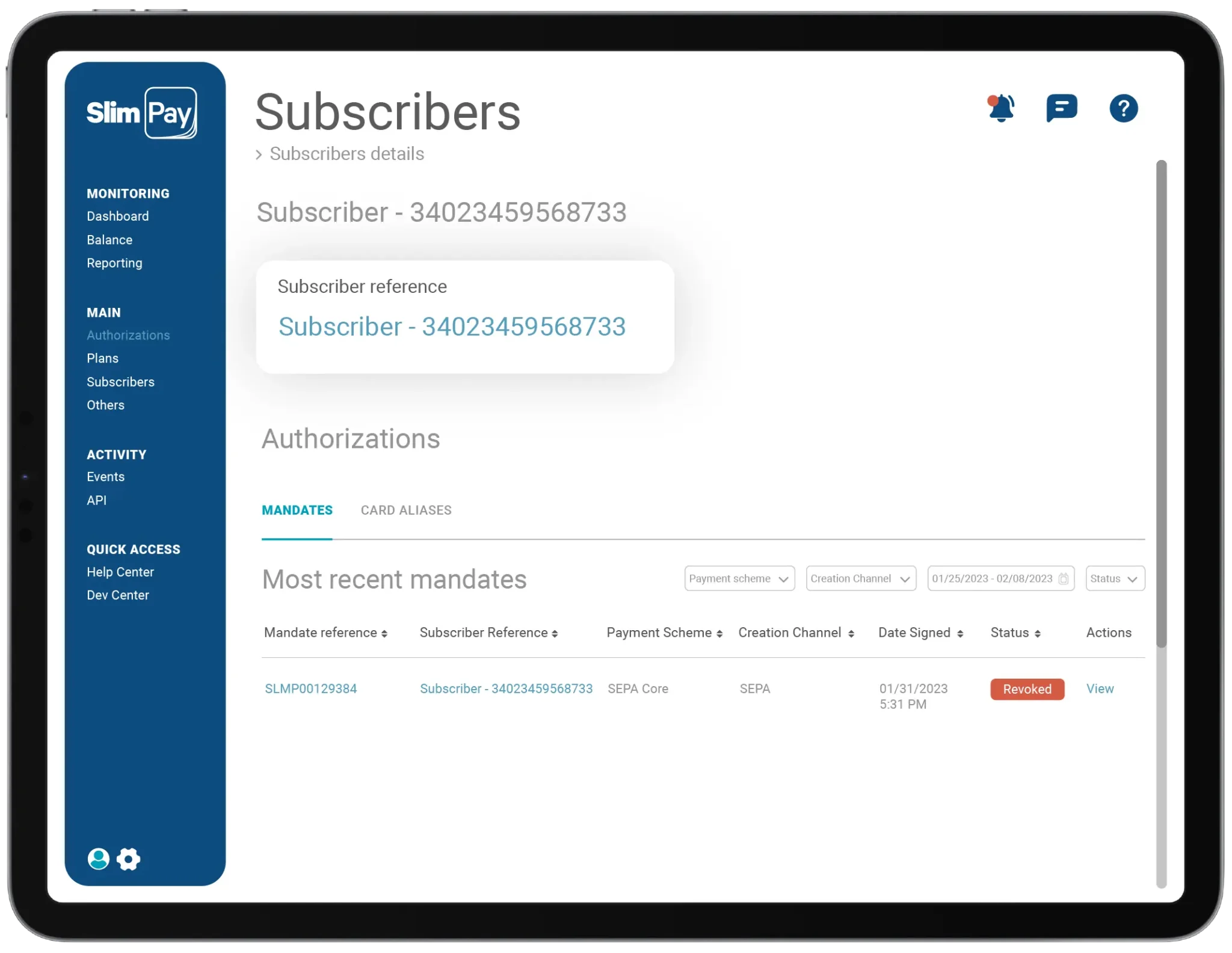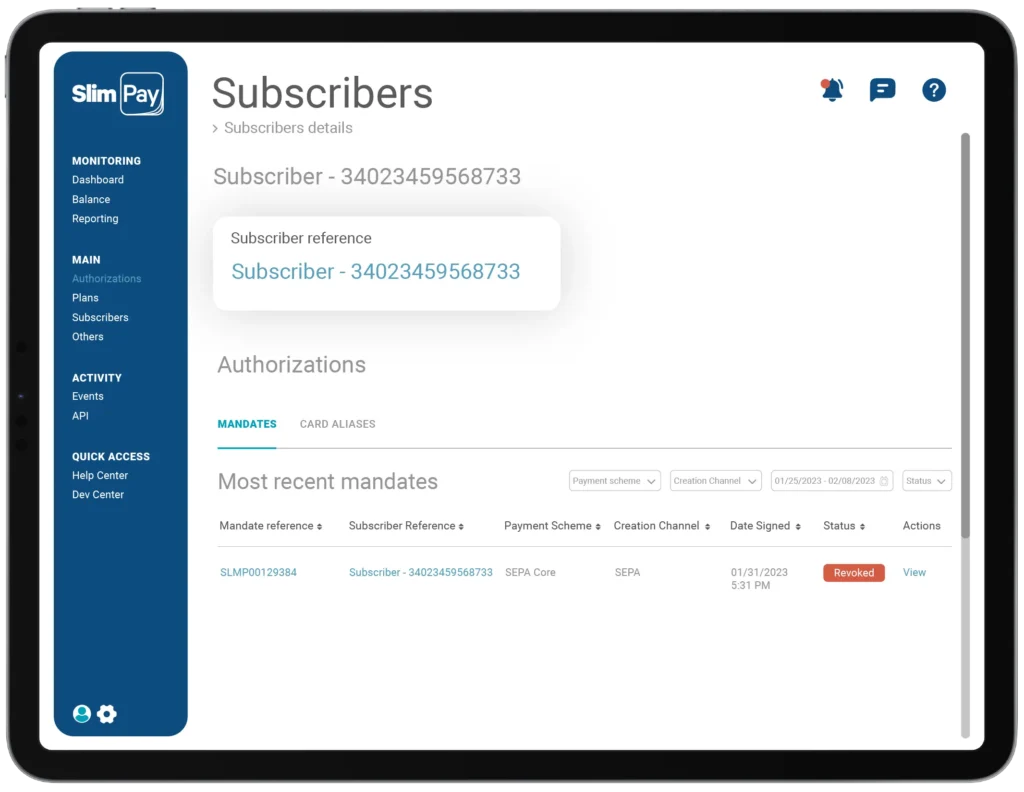 Searches become child's play
Lastly, to find a customer, document, payment, reference or anything else, you need only type into your search bar. The beauty of the Dashboard is that everything is connected: by clicking on a customer, you view all their payments, mandates and so on, organised by date. In the Timetable column, you can view the collection tables you have created, with a reference, date and other key information. This means it is very easy to find the information you need, fast. You have an overview of your entire activity at all times.
What management tools does SlimPay have?

SlimPay clients can access the Dashboard management tool to manage all of your activity: payment authorizations (mandate and card alias), payments (direct debit, refund etc.), accounts report and balance.

Find out more
Which items can I track on the Dashboard?

The Dashboard provides a real-time view of every section and you can filter this view by status to track your payment orders, authorizations, payments and payment plans.

Find out more