SEPA 101: R-Transactions
Published: 11 November 2015

Like any payment method, SEPA Direct Debit may experience unsuccessful transactions. These are called R-Transactions. Although a rare occurrence, failed transactions can have an impact on a merchant's revenue, particularly within the context of a recurring payment model. A failed transaction is not necessarily a sign of a bad customer or a bad service, and certain types of r-transactions can be recovered.
Types of R-transactions
There are 4 types of R-Transactions that can happen at various stages of the SEPA Direct Debit flow (see SEPA Direct Debit Timeline).
Reject: The debtor bank rejects the SEPA Direct Debit (SDD). This may happen if the bank account is closed, invalid or does not exist.
Refusal: There can be a refusal for a single transaction (the mandate remains valid for further transactions) or a revocation of the mandate, meaning additional transactions will be systematically refused.
Return: The debtor bank returns the SDD because there was an issue while processing the SDD. The vast majority of returns are because of insufficient funds on the debtor account.
Refund: Between D and D+8 weeks, the debtor can ask for a refund without any justification. Between D+8 weeks and D+13 months, the debtor can initiate a refund only in the case where s/he claims to never have signed a mandate.
The R-Transactions can have various root causes. Here is an overview of the most common types of R-Transactions: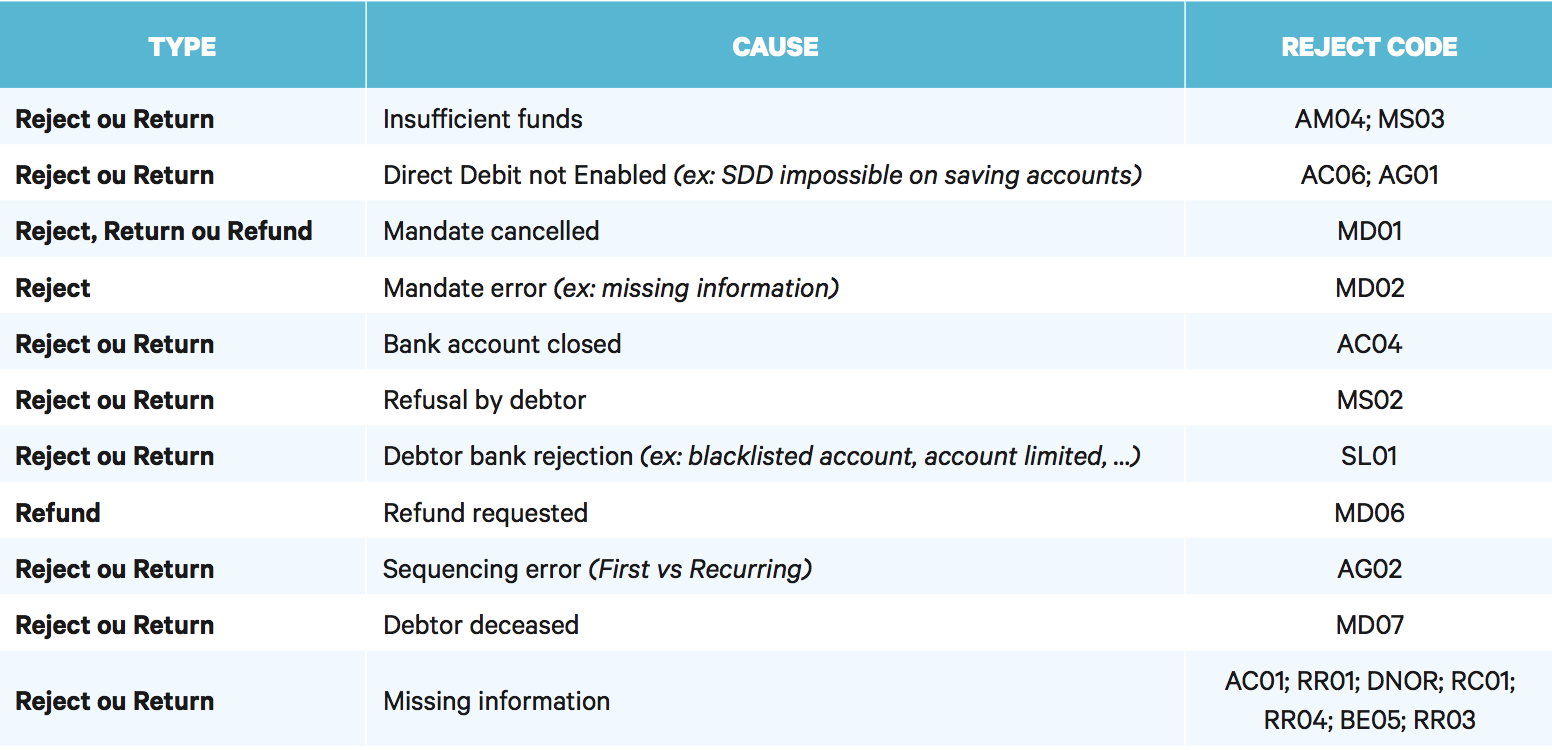 SlimPay's automated retry logic feature allows merchants to easily reduce the number of failed transactions through an automated process, which enables merchants to effortlessly recuperate failed transactions and keep customers on track for future transaction! Read more HERE!
Discover more about r-transaction and become a SEPA Direct Debit expert with our IGNITION GUIDE!